Soupy Rice
I used to eat supper with some friends fairly regularly. One of the best meals they ever served me was a rice dish that I found to be absolutely delicious. I was never really given a name for the dish, so when I first cooked it for Micki we started calling it "Soupy Rice". The name stuck, and we've been calling it that ever since.
We usually serve this recipe alongside of wild boar chops or ribs. Standard pork chops go well with it too.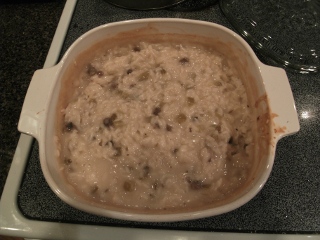 Preheat oven to 350°. In a casserole dish, mix both cans of soup with 1 can of water. Note that I don't quite use a full can of water; I leave about one inch of space below the top of the can. Any more than that and the water will not fully absorb into the rice during cooking, and the dish will come out a bit runny.
Add the rice to the soup/water mix and stir well, making sure everything is evenly distributed. Cover and bake for 25 minutes. After 25 minutes, remove from oven, stir well, then recover and continue backing for 25 more minutes. Makes about 6 servings.